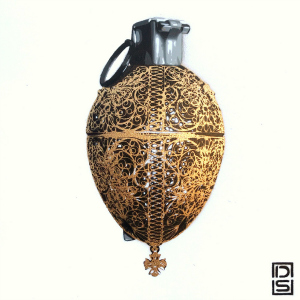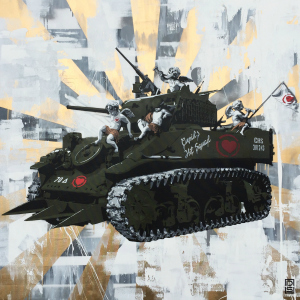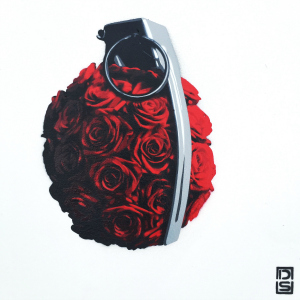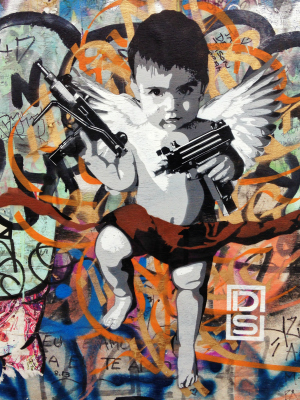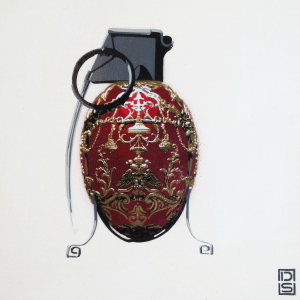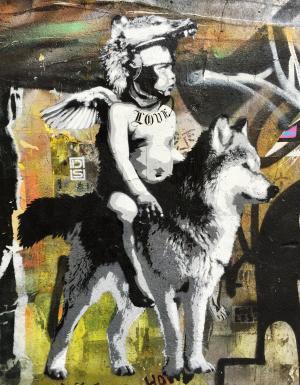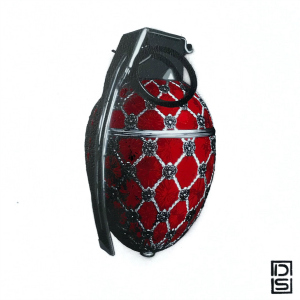 DS is a stencil artist based in London whose graphic universe is mostly populated with mischievous angelos, delicate grenades and luxurious eggs. His methodical composition of an arsenal of love weaponry is emblazed with a distinctive and reassuring reference to past italian and french academic practices while subtly exploring and criticizing several core issues that are deeply relevant to the basic values and priorities of our modern society. DS is heavenly acid and this is part of his disruptive and explosive allure. Angelic maneuvres led by his army of joyfully posing cherubs indeed defy our easy and immediate sense of reckoning in a way that requires from the viewers, be them hurrying passersby or considering collectors, more than a strong dose of double-entendre. Stencils by DS will always play out in front of us because rights and reasons, whatever their normative origins, are resting on a structuring morale that is, in itself, a derivative of self-imposed societal lines. Usually, cupids don't throw grenades and Fabergé-like eggs don't give chicks. Over the past years, DS has slowly and sometimes painstakingly created a bold and lively gallery of divine subjects and precious objects that forms the amazing exposition (or should we say explosion) of his own urban reverbs … We met on a bright and hot day in London to discuss all this and more … Here are some excerpts :  
PLIPP : What is your view of the current stencil art scene ?
DS : For something which is quite a particular type of artwork, I would say it is rich. The global stencil art scene is pretty strong. There is a lot of interest. There is a lot of talent out there. It is very broad in terms of techniques and how people approach it. I am just a little bit more introverted when it comes to be associating with other artists but there is definitely ones that stand out which I can't help but appreciate. There is a lot of bullshit around street art as well. There is a lot of regurgitation … You just keep seeing the same artwork coming out again and again in just varying degrees of crap. It shows how fickle the public can be. They will just see something on a wall, they will look at it, take photos of it but they don't really assess it. Some artists understand the situation and seize the opportunity … They just get their artwork out there because it is so cool to be a street artist, they get a lot of hype, they get laid. They do paintings like the picture of somebody famous doing something akward or opposite of what they normally do and then BAM … All that stuff is very marketable ! This is where my bitterness towards street art comes. I am being quite cynical here and there is obviously exceptions to the rule … Some artists are coming into street art and stencils for the right reasons, because they have a creative urge. They have valid points to get out but I think that finding someone that really stands out as being unique is becoming really tough !
PLIPP : How did stenciling started out for you ?
DS : I have always loved stencils. That has always been my genre. I started off more of a kind of studio artist because of the elaborate nature of my pieces. Multilayers stencils didn't really lend themselves for doing on the street although I fully recognize that when done in the right location, it adds to the impact of your piece … The street is definitely much more exciting but you have to gear yourself up mentally and psych yourself up to do it on the street, especially if your are doing it illegally. The beauty of single monolayers is how fast you can paint them … You can get a lot of details and forms with monolayers. My very first stencils were simple and quick but I have always lended myself to more detail. Now that there is more competition over stencils, I have to keep the game up and get better all the time although the amount of layers doesn't translate into more money, at least in my experience. Now, going back to the question, yes, I always knew I wanted to do something art related. I started drawing and stuff from an early age but it was not until 2000 or 2001 that I started doing the stencil. It was not until then that I really thought that stencil graffiti was my kind of genre, the thing I really like. I just knew that I wanted to do that type of artwork and I stuck to it. I don't really have any other options. I can produce the artwork that I want to be doing via stencil graffiti … I feel it is the best way for me to express myself in the art way. I have always appreciate techniques … But, again, all this doesn't matter if your subject is rubbish. You won't get any love for it if it is just something quite bland. Good artwork is meaningless if it is a shit point coming across !
PLIPP : What is your main source of inspiration ?
DS : The cupids is a great series. This cherub related artwork was from statues from Google or statues that I have taken photos from. A lot of these pieces are probably about twenty different images cut up and assembled to make one single stencil. A lot of the time I have to take the photos myself because to make a good stencil, you need to have one strong source of light coming. The light work has got to be perfect to match the actual thing. I will stick with it for a while. It is some of my favorite series right now but it is not the only kind of theme that I have going on. The art grenades are my biggest sellers right now. It started three or four years ago … I did a Easter egg grenade hunt in Paris and London and, through social media, people could pick up on hints and clues … They could find them and they could keep the pieces. These eggs are quite playful … They are kind of my favorites. With my love grenades, you have such an aggressive weapon which, at the same time, can create love. How potentially explosive it is, you know ! I like the contrast. It is that whole beautiful something that is fragile, combining with something which is so explosive, dangerous and destructive !

PLIPP : Do you have a message to the world  ?
DS : I would like to think that I have multiple messages but I don't really know what they are ! So my message is perhaps a selfish one … I just want to create artwork that makes me proud and happy.
---
Facebook : DS Art

Instagram : DS_Art
Website : DS Art
Credits : All the illustrations were kindly provided by DS.
Note : Additional excerpts from the interview of DS will be published in a new book due to be released by BRIGADIER PLIPP end of 2019.
Copyright BRIGADIER PLIPP for MAEDIA Publishing for the text and the pictures unless indicated otherwise.